LIDINE 2022: LIght Detection In Noble Elements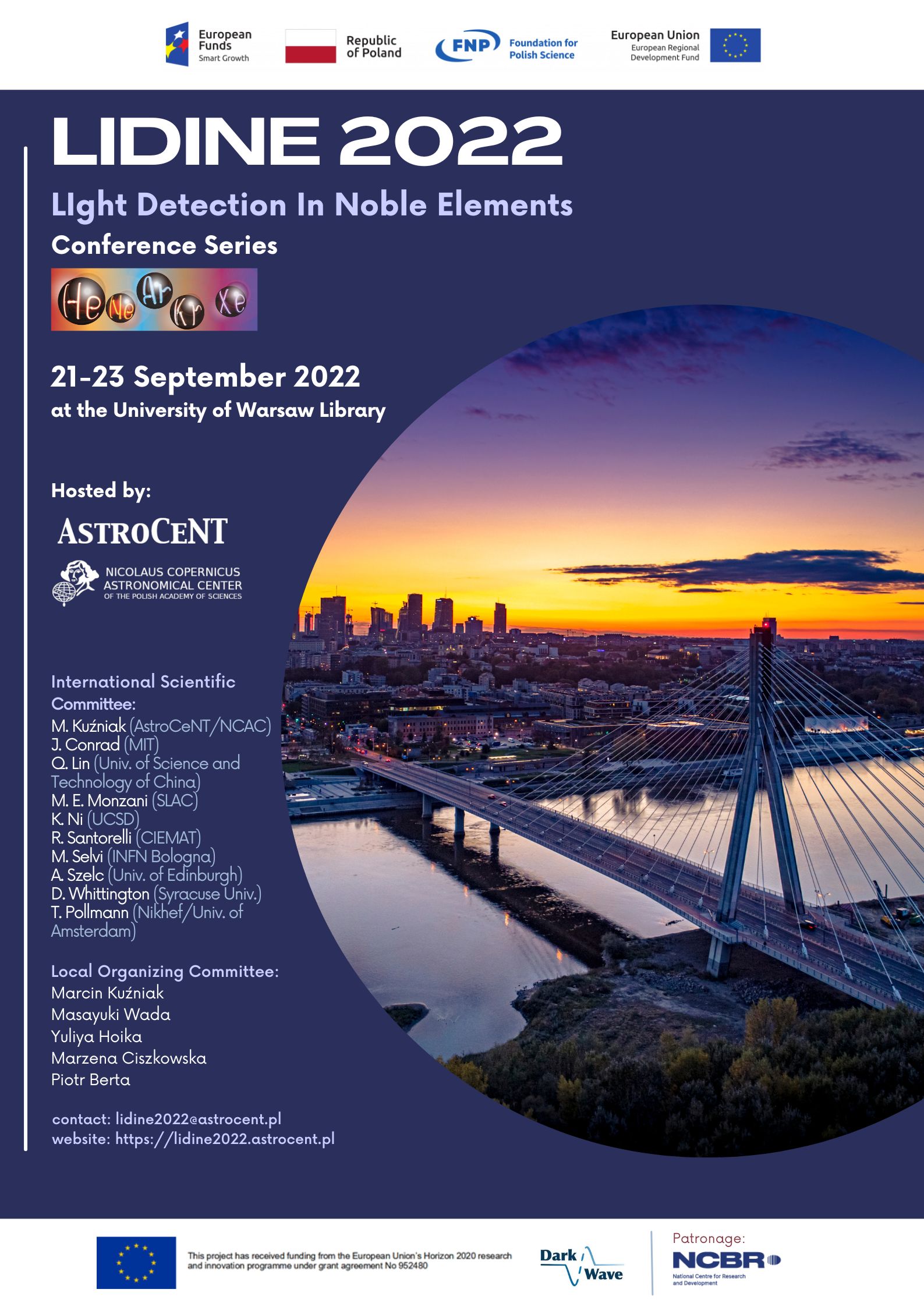 The objective of the LIDINE conference series is to promote discussion between members of the particle and nuclear physics community about detector technologies based on noble elements and their applications such as: dark matter, neutrino oscillations, solar and supernova neutrinos, coherent elastic neutrino-nucleus scattering, neutrinoless double-beta decay, neutron EDM, and medical physics.
LIDINE 2022 will be hosted by AstroCeNT/Nicolaus Copernicus Astronomical Center of the Polish Academy of Sciences (CAMK PAN) on September 21-23, 2022.
LIDINE 2022 is an in-person conference. Nevertheless, conference sessions can be followed via zoom (see connection details at the bottom of this page).
The conference will be organized along the following tracks:
Light/charge response in Noble Elements (gas, liquid, dual phase)
Light/charge readout (PMTs, SiPM, WLS, electronics, etc.)
Detector techniques (HV, cryogenics, purification, calibration, etc.)
Signal reconstruction and identification (analysis methods, simulations)
Applications (dark matter, neutrino, precision frontier, medicine, etc.)
Important deadlines:
Abstract Submission: July 22 rescheduled to July 31
Early registration (including payment of the conference fee 1 250 PLN): August 15
Late registration (including payment of the conference fee 1 600 PLN): September 2
Conference proceedings submission: November 30
International Scientific Committee:
Marcin Kuźniak (AstroCeNT, Poland) - Chair

Janet Conrad (MIT)

Qing Lin (Univ. of Science and Technology of China)

Maria Elena Monzani (SLAC)

Kaixuan Ni (UC San Diego)

Tina Pollmann (Nikhef/University of Amsterdam)

Roberto Santorelli (CIEMAT, Spain)

Marco Selvi (INFN, Bologna)

Andrzej Szelc (Univ. of Edinburgh) - Proceedings editor

Denver Whittington (Syracuse Univ.)
Note: in order to submit an abstract, you will need an account on the CAMK PAN indico.
News about LIDINE2022 can be found on DarkWave official page and Twitter account.